Aprilaire Dehumidifiers
Many industry professionals rely on Walder Foundation Products for leading foundation, crawlspace, and basement repair products. Did you know we also supply the best crawlspace dehumidifiers in Alexandria? It's true! When your customers need additional protection for their crawlspaces or broad moisture control for their homes or businesses, we recommend using Aprilaire dehumidifiers. Our team has researched and tested many dehumidifiers over the years, and we trust the Aprilaire brand for energy-efficient moisture control and reliability. These systems provide the healthy indoor air quality your customers are looking for. 
Aprilaire dehumidifiers offer Alexandria homeowners advanced technology combined with reliable performance. Dehumidifiers are an investment, and investing in Aprilaire will ensure your customers will see a return on their investment. Each Aprilaire dehumidifier comes complete with a lifetime filter, a duct collar, and a 5-year warranty. Your customers will also be pleased with the easy-to-use digital display and how incredibly quiet they are. 
Aprilaire manufactures one of the most recommended and reliable crawlspace dehumidifiers in Alexandria's competitive market. Aprilaire produces premier indoor air quality products. Here are a few more reasons Walder Foundation Products trusts Aprilaire dehumidifiers: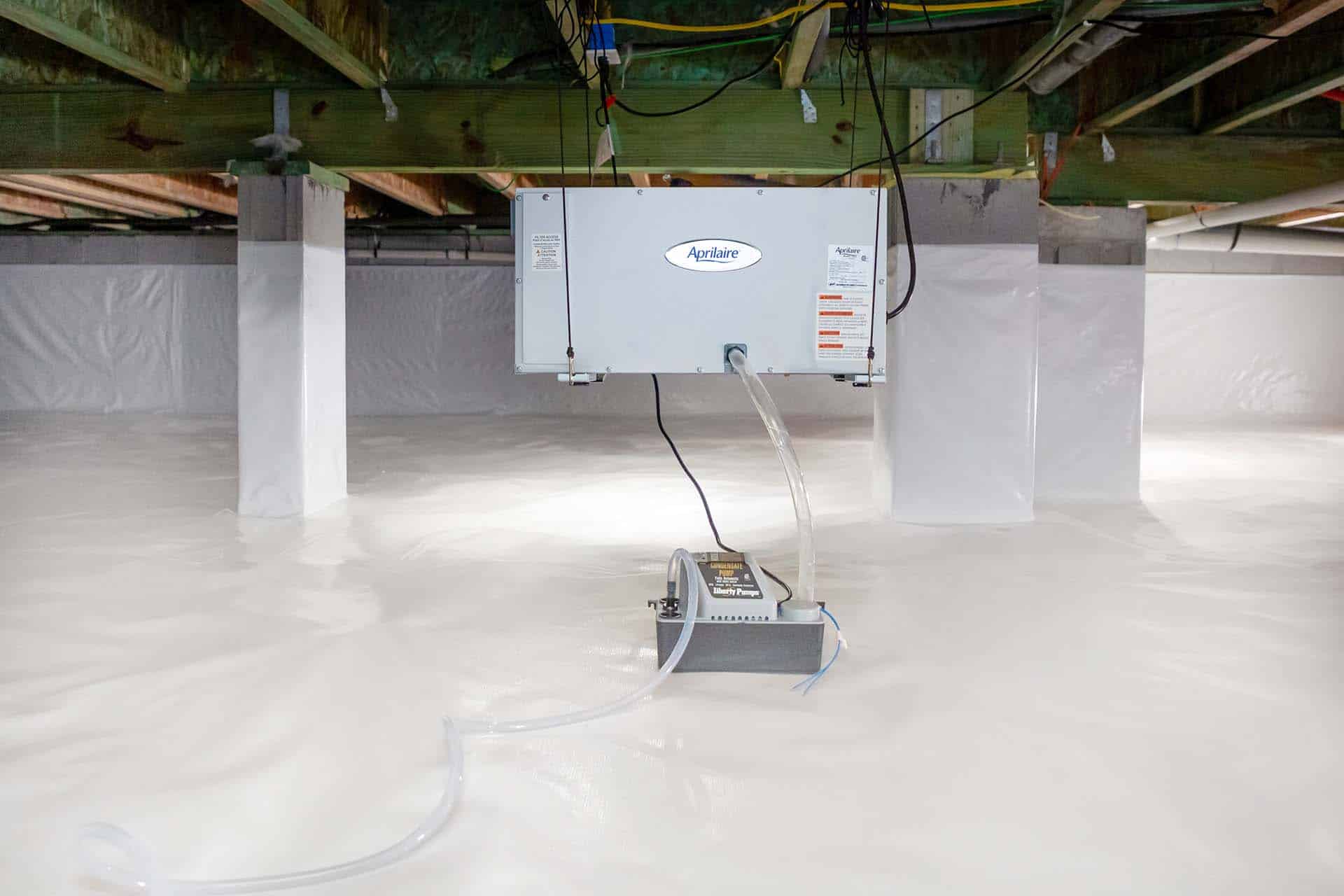 They maintain ideal relative humidity (30% to 60%) to guarantee comfort and limit the effects of harmful contaminants.
Each product is backed by one of the best warranties available in the industry. 
They help prevent mold and mildew growth by removing moisture in the air, which also reduces airborne virus survival rates. 
They have the flexibility to shift between localized and whole-home dehumidification.
Three times the moisture-removing power over other dehumidifiers.
Energy-efficient and low-maintenance—no need to constantly empty tanks!
Aprilaire Products We Keep in Stock for Distribution
Condensation Pumps
Controls & Thermostats
E70, E80, E100, E130
Dehumidifier Hanging kits
Dehumidifier Stands
Become a Walder Partner
When you team up with Walder Foundation Products, you'll ensure your customers receive the best solutions for their dehumidification needs along with the highest quality products available. Contact our team to learn more about crawlspace dehumidifiers in Alexandria, and become a partner today!