What Are CHANCE Lighting Foundations?
Just like your home, commercial buildings, and all other structures need a sturdy foundation, so do lighting fixtures. Whether you're illuminating a parking lot, a neighborhood, or you're looking to install similar products like signage, cell towers, or traffic lights, CHANCE lighting foundations are a safe choice for fast, easy, effective installation, even in inclement weather. The non-extendable shaft can be easily driven into the soil, then, after feeding the power conduit through the cableway and out the baseplate, you're ready to hook up the electrical and run power to whatever structure you're installing.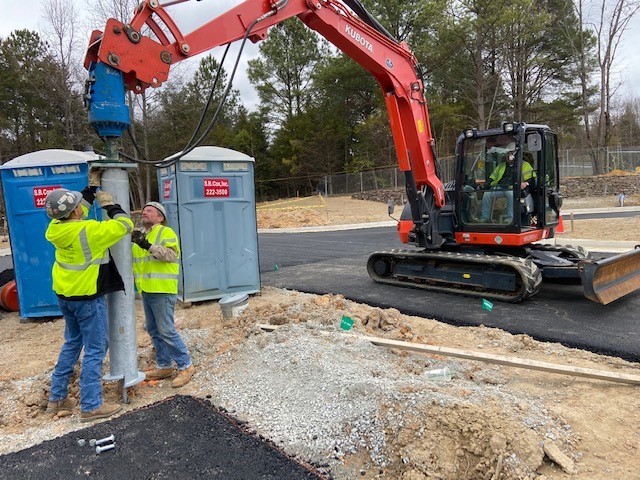 Benefits & Features for Installers
The CHANCE lighting foundation features a welded spiral plate, making it easy to screw into the topsoil using hydraulic equipment or even smaller equipment like a skid loader or excavator. During installation, the load-bearing helix compacts any soft surrounding soil but does not remove any significant volume below grade to ensure the earth around the foundation remains tightly packed in place. Other benefits for installers include:
Multiple lengths to ensure proper application
Bend resistant 
Wind, compression, and uplift resistant 
Fast installation times
No additional concrete needed
Versatility in applications
Allows for installation in areas with poor access
Comes equipped with job-ready, pre-engineered details
Compliant with AASHTO standard specifications for structural supports for highway signs, luminaires, and traffic signals
Installation takes about 10 minutes & product allows for immediate loading after installation
Lightweight product reduces shipping cost and allows for the use of smaller installation equipment
Get In Touch
When you're in need of a fast, effective way to support highway signs, luminaires, traffic signals, and other small electrical structures, contact the team at Walder. We'd be happy to train your team for proper installation and provide you with access to this premium product manufactured by CHANCE for all your DOT, utility, area lighting, architectural, or airport needs!