CHANCE® Instant Foundations™
The A.B. Chance Company designed the prototype for the original lighting foundation anchor in the late 1960s. Hubbell Power Systems, Inc. now manufactures the CHANCE® brand Instant Foundations™ for our Richmond based contractors as an economical foundation and support solution for lighting, highway signs, commercial signage, bollards, 5G poles, and solar array pole mounts, among many other applications. The high strength of the pipe shafts make them capable of bearing a load immediately upon installation, able to resist lateral loads and bending, and able to withstand tilting loads caused by wind, seismic motion, or vibrations from heavy roadway use. The ease of their installation makes them versatile for a huge number of applications at job sites in Richmond. Every CHANCE Instant Foundations system comes preengineered and weighs between 130 to 251 pounds, which reduces shipping costs and makes them easy to install without the need for large equipment or site disturbance. Typically, two workers can fully install the lighting foundations at any Richmond jobsite, without assistance. And because these instant foundations are lighter in weight than their concrete counterparts, they can be easily repositioned or relocated in the future.
Benefits for Installers and Contractors
CHANCE Instant Foundations do not require the same complicated process as concrete base foundations, and because they are designed as helical piles, the foundations can be easily installed during any kind of weather and in locations where space is limited and will not accommodate heavy-duty trucks and other big installation equipment.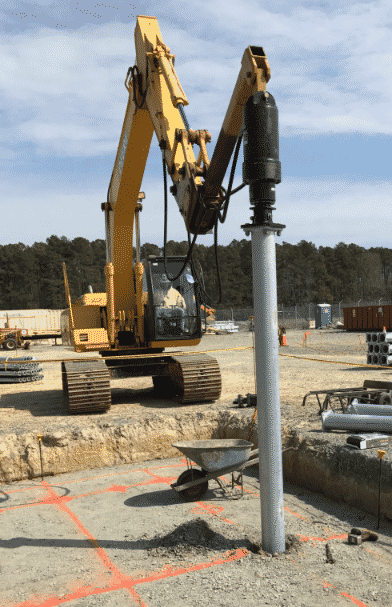 The benefits of the CHANCE® Instant Foundations™ system make them a perfect pole-based foundation choice:
Immediate load bearing upon installation
Immediate wiring upon installation
No need for costly anchor bolts
Withstands frost heave
No vibration to disturb area
Requires only standard equipment for installation
No need for excavation or spoils removal
Lower carbon footprint than concrete
Made with recycled materials
Easily installed and easy removal
Minimal disturbance to installation area
Reusable and sustainable
Because this system also complies with the standard AASHTO specifications for the structural support of highway signs and traffic signals in Richmond and nationwide, it is now widely used by utilities and DOTs.
When you need the best for your pole base foundations, reach out to the engineers at Walder Foundation Products and let's discuss the benefits of the innovative CHANCE Instant Foundations system for your next Richmond based foundation project.