What are CHANCE™ Helical Tieback Anchors?
In Richmond, helical tieback anchors are used to construct permanent and temporary sheet pile walls, bulkheads for marine applications, concrete reinforced walls, precast concrete panel walls, and even multi-tier tieback walls. The CHANCE® Helical Tieback Anchors are installed by using a hydraulically powered torque motor that is mounted to standard construction equipment such as a line truck, rubber track-hoe excavator, tired backhoe, or front end skid-steer loader. Torque is then applied to push the tieback anchor down into the soil where the anchor is able to hold failing walls in place. Immediate pull testing of these anchors post-installation also acts as a check on the design procedures, eliminating issues down the line. If you're looking for helical tieback anchors for your next project in Richmond, whether it be a retaining wall, road repair, or any other project that needs high-quality earth retention, our team of Richmond-based helical tieback anchor experts can help! Contact us today to learn more.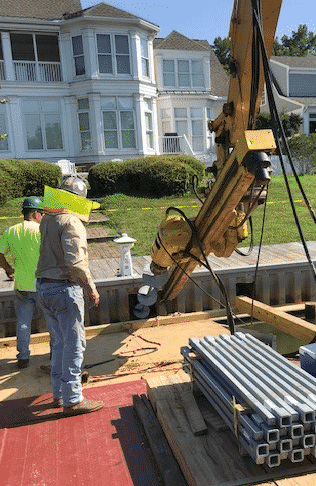 Benefits & Features for Installers
Our helical tieback anchor products in Richmond are able to be installed quickly and in any weather condition, and they're produced using HeliCAP® Helical Capacity Design Software. This is helpful to design professionals who need to quickly calculate the best tieback anchor for the specific application and the load it will have to bear. Teams can avoid common construction issues such as spoils removal, de-watering, and excessive grout cure time while taking advantage of a fast application, with a typical production rate of 30–40 anchor installations per day! Other benefits for installers include:
Predictable, engineer-tested results
Lower labor costs for applications
No pre-drilling required
High load capacity
Adaptable to a range of site-specific conditions & loads
Load transfer by end-bearing instead of skin friction
Extendable product with bolted joint connections
Removable & reusable
CHANCE 30-year warranty
Get In Touch
Walder Foundation Solutions is Richmond's most trusted distributor for CHANCE® helical tieback anchors which is a great solution for both residential and commercial projects, as well as and municipal use. Since 1992, we've served contractors and engineers in our area by providing top-rated products from manufacturers like CHANCE as well as comprehensive training for their correct application. If you're a construction professional or repair provider in need of a reliable distributing partner, contact Walder's Richmond-based helical tieback anchors team to learn how our team can act as an extension of your own!