Crawl Space Support System
If your company is still correcting your customers' sagging floors with cement blocks or standard jack supports that rely on topsoil for weight support, it's time to make the switch to a better solution.
Interior structural support piers are no better than the foundation they rest upon. Even modern steel support systems will eventually sink into the ground over time. These are costly, temporary fixes that require pouring heavy concrete and often incur delays due to footing inspections.
At Walder Foundation Products, we strive to provide Richmond contractors with the best quality jack support products possible. We now distribute our new, more effective support system that can't be found anywhere else on the market.
Strongpost Jack Support with Polybase Foundation
The Strongpost Jack Support System we use at Richmond properties is more settle-resistant than other leading jack support systems with our lighter-weight Polybase. The Polybase we provide for Richmond based structural support system projects is a low-profile, high strength polymer concrete foundation that is glass fiber reinforced and 30% lighter than conventional concrete blocks. This innovative design spreads the weight load more efficiently and ensures the best possible stability and support of sagging floors.
This high-strength steel Strongpost Jack Support System is engineered for maximum support, fully adjustable and resistant to corrosion. It allows for up to 7 feet of lift, and its heavy-duty design can stabilize up to 30,000 pounds. We also have custom-length piping available in any size to ensure you have the correct height to support your project. Combined with the unique, non-reactive Polybase foundation, it's the strongest and most durable support system available.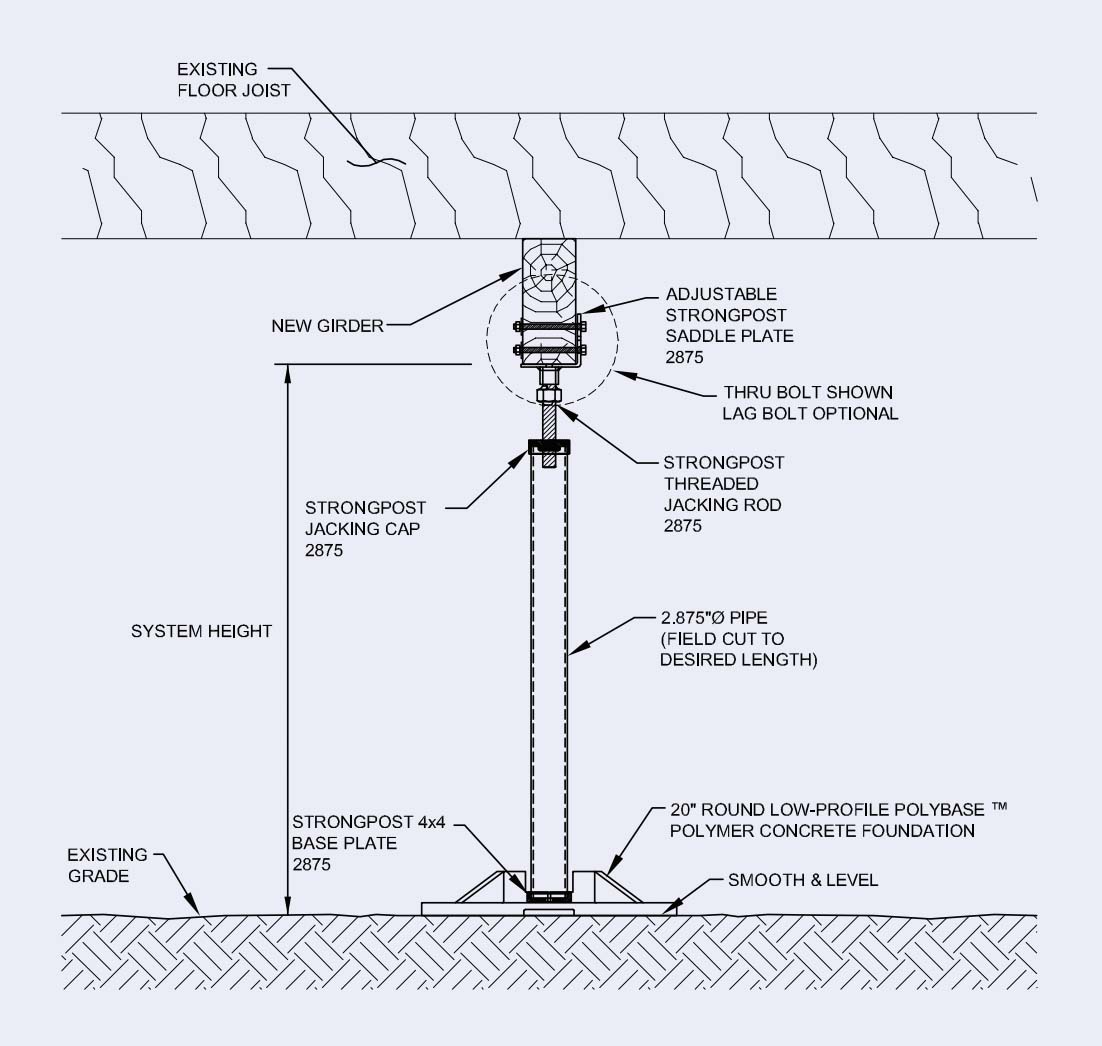 Become a Certified Installer
Construction professionals in Virginia need great products to provide outstanding service to their customers. With distribution and training by Walder, your team is equipped with the highest quality jack support products available in Richmond , giving you the ability to build your company's reputation.
Contact our team today to learn more about becoming a partner!