Crawl Space Waterproofing in Richmond
As a contractor, you know that those unpleasant crawl space areas beneath every home have more than too many problems; it's just the nature of the beast. Water and mold issues, sagging floors, rotted wood joists—and it's up to you to successfully (and permanently) mitigate those issues for your customers. We're here to provide all the tools and products you need to do that.
Waterproofing Solutions
As a contractor who specializes in foundations and crawl space repair in Richmond, it's important for you to have water management and mitigation systems in your Richmond property that you can depend on. We provide training to certify you as an installer for all of our products, so you can walk onto a crawl space waterproofing job in Richmond, with all the confidence you need to instill your customers with that same confidence in you.
Hydraway: We stand by these products with 100% confidence. They are agile enough to accommodate nearly every problem you'll encounter, they are quick and easy to install, and once installed, they demonstrate a zero-failure rate. Hydraway products can handle higher water capacities than competing systems and can be used as residential, commercial, and industrial water mitigation solutions.
YCS System: The Your Crawlspace™ (YCS) system is an innovative encapsulation system that creates a completely sealed vapor barrier that does not require you to drill or shoot nails into the foundation. The patented adhesive makes installation a breeze and creates a permanent solution to block out moisture.
Aprilaire Dehumidifiers: As with all of our products, we have absolute confidence in the energy efficiency, effectiveness, and reliability of these dehumidifiers. They successfully remove moisture from beneath a home and they remove airborne contaminants (mold, mildew, rodent dander) from the crawl space area.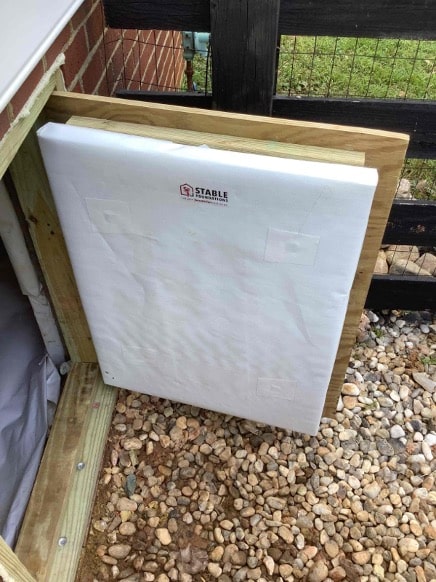 Work With Walder
From encapsulation vapor barriers that seal out harmful elements to efficient drainage solutions, sump pumps, and dehumidifiers, you can count on Walder Foundation Products as the ace in your back pocket. Our Hydraway waterproofing systems are among the finest in the industry. We stand by their strength and longevity, and their ease of installation. When you want the best service and products in water management and crawl space waterproofing in Richmond, contact us and let's talk about what you need as the best solution for your customer. New construction or a crawl space from the 50s, we've got answers to elevate you beyond other contractors.