WFP Vapor Barriers: The Gold Standard for Crawl Space Encapsulation in Richmond, VA
For three decades, foundation, basement, and crawl space repair contractors have counted on Walder Foundation Products (WFP) to provide unrivaled crawl space encapsulation solutions in Richmond. A frontrunner in the local market, WFP Vapor Barriers serve as the top line of defense for vented dirt crawl spaces, effectively eliminating the threat of mold or mildew infestation in these often overlooked areas.
Water damage is a perennial concern that threatens structural integrity. Thus, keeping excess moisture at bay is paramount in maintaining the longevity of any residential or commercial building. Conventional encapsulation systems often resort to using nails or drilling into the foundation, inadvertently providing moisture ingress points. WFP Vapor Barriers revolutionize this by offering a unique fastener-free installation, truly sealing your crawl space.
Our patented, groundbreaking technology avoids mechanical fasteners, enabling a damage-free solution for a hermetically sealed crawl space. WFP Vapor Barriers effectively maintain stable humidity and temperature levels year-round underneath your home, potentially generating savings of up to 15% on annual heating and cooling expenses.
Installation is a breeze with WFP Vapor Barriers, requiring half the time compared to other systems. You can rest assured of their durability because a one-time installation lasts for years. Every purchase comes with a 25-year assurance against defects, flaws, and odors.*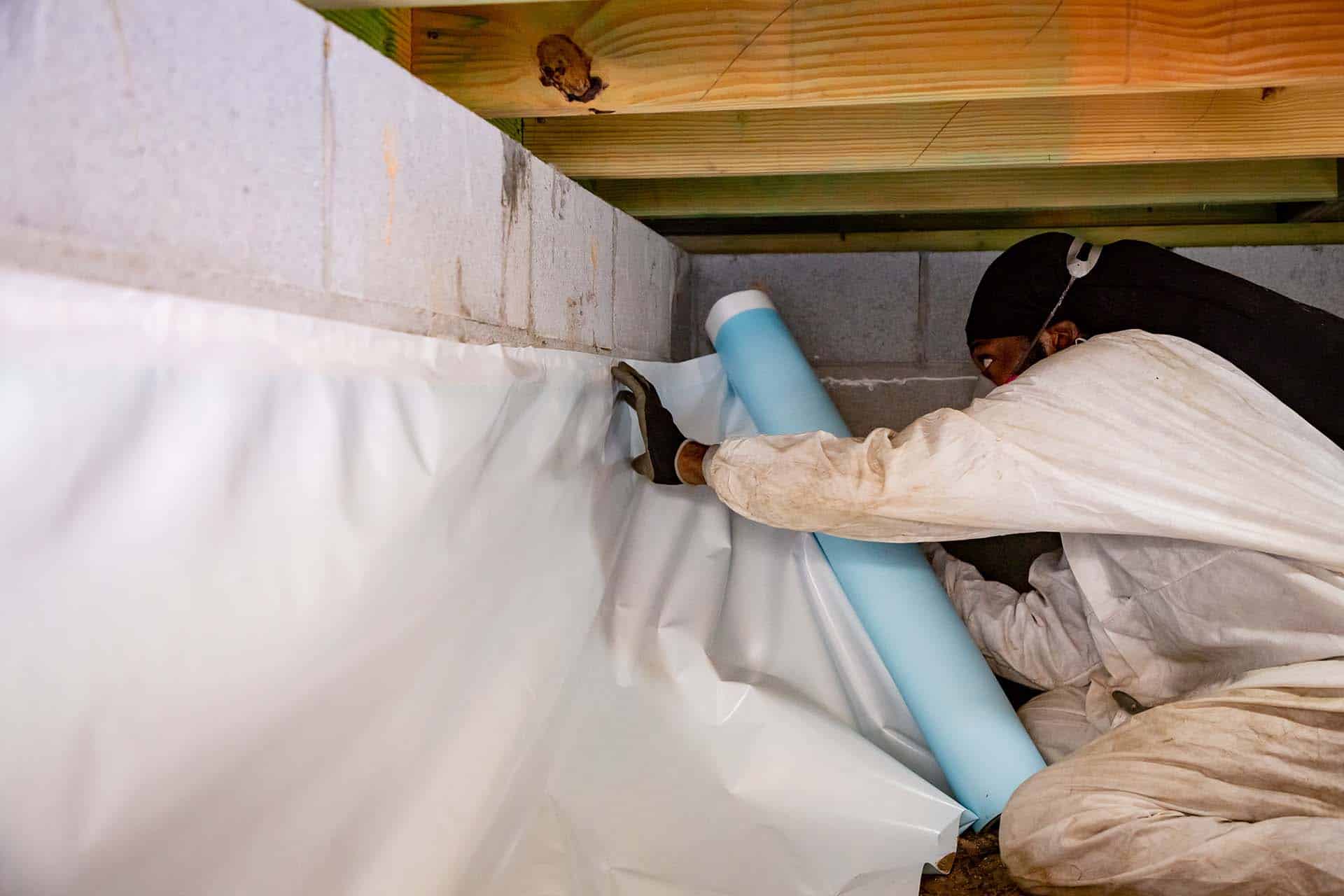 Benefits & Features for Contractors
Industry professionals recognize the criticality of high-quality vapor barriers in Richmond, VA and the surrounding areas, especially for vented dirt crawl spaces. Still, some resort to substandard, non-woven plastics that deteriorate or lose potency over time. WFP Vapor Barriers offer exceptional advantages, including:
WFP vapor barriers fit any crawl space wall and will assure a lasting seal
WFP vapor barriers and ground liners will not grow mold
50% faster and simpler installation
Materials that are low-VOC, free of harmful or toxic chemicals, promoting safety for installers, homeowners, and the environment
Backed by a 25-Year WFP guarantee* ensuring all our vapor barriers are free of manufacturing defects, tears, holes, flaws, and odors
*The warranty applies to closed, conditioned crawl space installations, excluding damage from abuse, condensation, flooding, broken pipe water intrusion, pest damage, or animal attacks.
Available WFP Vapor Barrier Types:
8 mil vapor barrier
14 mil vapor barrier
16 mil vapor barrier
20 mil vapor barrier
36 mil vapor barrier
44 mil vapor barrier
WFP leads the Richmond crawl space encapsulation market with the industry's best-woven vapor barrier products backed by a no-odor guarantee and a 25-year warranty. Assure your customers of a cost-effective product built to last.
Visit Walder's online store and explore our superior WFP woven vapor barriers. Partnering with Walder is more than a transaction; it's a partnership aimed at providing the best quality and service. Reach out to us and discover why WFP is the final vapor barrier brand you'll ever need.