Quality Insulation Products in Richmond
Every building sits on a foundation that comes into contact with the ground. Regardless of its location, the building can be impacted by the movement of expansive soil, hydrostatic (water) pressure, and drastic changes in seasonal temperatures. Any combination of those environmental factors have the potential to damage the foundation of homes and businesses, which compromises the integrity and structural stability of the entire structure.
Because the soil that surrounds foundations absorbs water, basement walls and crawl spaces are vulnerable to the impacts of moisture and humidity, both of which create the perfect conditions for pest infestation and fungal growth that will rot the wooden joists supporting the floors. The most effective prevention strategies will depend on the climate and the construction style in the particular area.
When it comes to properties in Richmond, crawl space encapsulation and our basement insulation services are effective techniques for protecting your residential and commercial projects from water damage. With professional installation, both methods can correct issues related to mold and moisture and will help reduce energy usage. Walder Foundation Products is a trusted supplier of the highest quality foundation repair and insulation products for contractors in the Richmond area.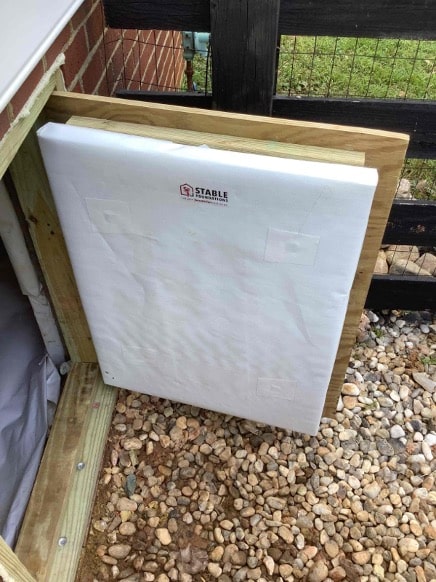 Choosing Walder Products
We carry a wide selection of reliable insulation products to provide Richmond area properties with waterproofing protection in the crawl space or basement of any home or commercial building. Every product we stock has been tested and carries a guarantee. As a contractor, you will enjoy the convenience of how easy it is to handle and cut each insulation product into the exact size you need.
Bora-Foam Board

is designed specifically for the insulation of crawl spaces and basements and is the first termite-resistant insulation board of its kind. Made from expanded polystyrene foam board, Bora-Foam is non-corrosive, can be handled safely, is puncture resistant, and provides easy cut lines.

Insul-Barrier

insulation is a multi-layer blanket of reflective aluminum, woven polyethylene, a polyethylene bubble, and high-density closed-cell foam. It is the perfect insulated vapor barrier for thermal and moisture protection for any Richmond area crawl space.

The RMAX Foam Board

provides superior protection without creating a significant elevation in the profile or thickness of the wall.

As a contractor, you are definitely familiar with the

Owens Corning® PINK Next Gen™ Fiberglas™

insulation. Chances are you've used it many times. It carries an R-19 rating and is built with advanced fiber technology.
Go for the Walder Option
When it comes to quality products for foundation and crawl space repair, Walder Foundation Products has been your go-to distributor since 1992. When you work with us, you get more than just a product supplier. You get a partner. For all of your crawl space and insulation product needs in Richmond, contact our representatives who can answer all your questions, or simply visit our online store and place your order today!