Supplier of the YCS System: Your Crawlspace Encapsulation System
The Your Crawlspace (YCS) System for Richmond properties is a vapor barrier system most commonly used to shore up vented dirt crawl spaces to mitigate the risk of mold or mildew growth in an often-ignored space. Because water is one of the most damaging environmental factors that can affect the health and stability of a structure, keeping excess moisture out of a home or commercial building is the best way to keep it in good shape. 
Most standard crawl space encapsulation systems in Richmond use nails or require drilling holes into your foundation in order to hang the vapor barrier liner, providing moisture an opportunity to invade your crawl space. The Your Crawlspace encapsulation system is the only vapor barrier system in the Richmond market that is truly sealed because it is installed without the use of mechanical fasteners. The YCS System uses patented, innovative, and proprietary technology to provide a damage-free method of safely creating a permanently sealed crawl space that works to maintain a controlled humidity and temperature underneath your home year-round, which can save up to 15% on a home's annual heating and cooling bills.
The YCS System is quick and easy to install. It can be installed in half the time of other encapsulation systems and after the one-time installation, will last for years to come. All YCS systems come backed by a 25-year guarantee that our vapor barriers will be free of holes, flaws, tears, manufacturing defects, and odors for 25 years. See warranty information below for full details.*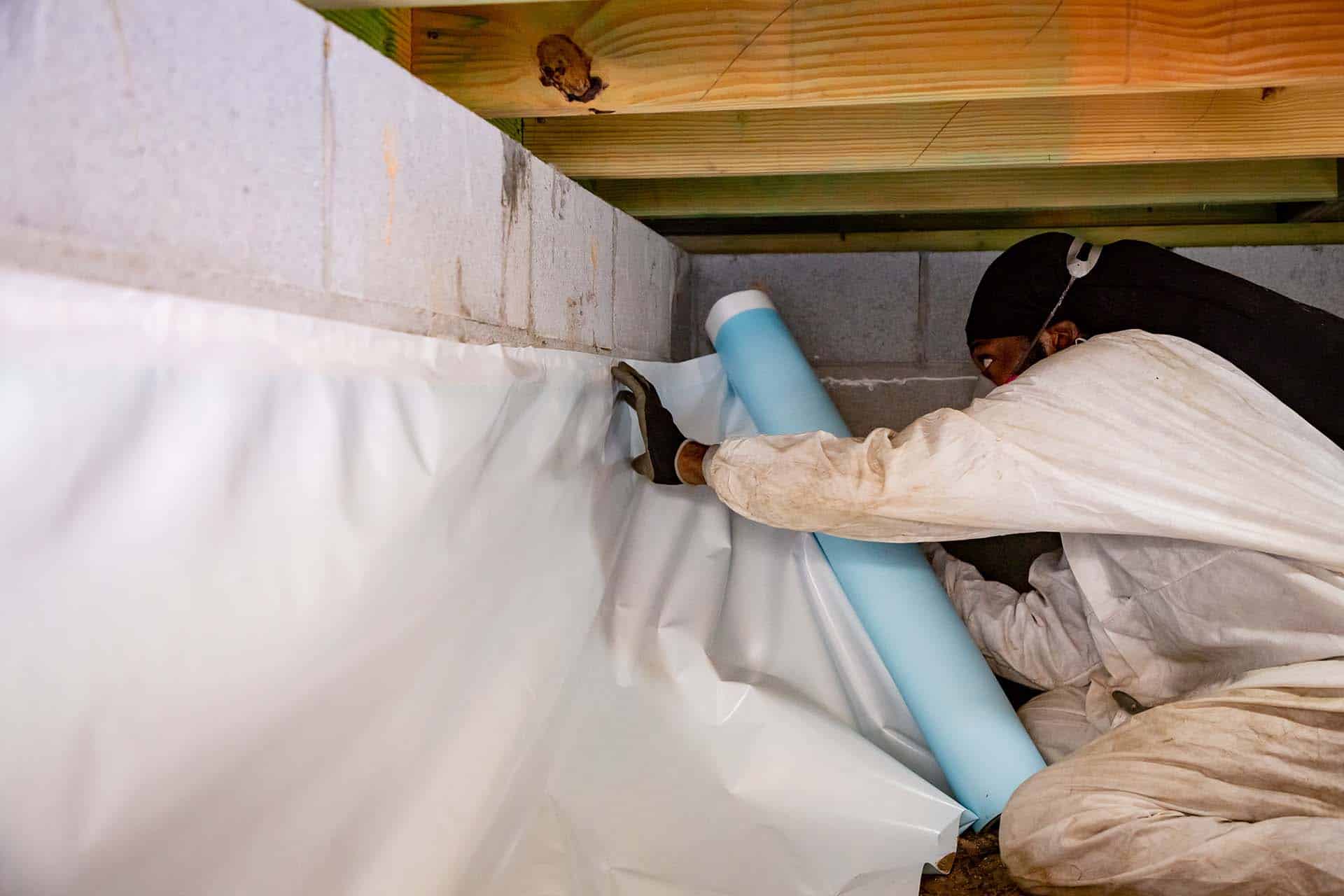 Benefits & Features for Installers
The construction professionals in our area are already well aware of the need for proper vapor barriers, specifically for vented dirt crawl spaces. However, many are still using poor quality, non-woven plastics that will deteriorate or lose their strength over time. Aside from their extensive track record of manufacturing quality vapor barriers, other advantages of the YCS System include: 
The patented YCS Crawl Curtain and YCS Wall Attachment Tape are custom designed to fit any crawl space wall and guarantee a permanent seal.
The proprietary YCS Magic Sealant/Adhesive will adhere to brick, metal, stone, and block foundation walls without the use of mechanical fasteners, solvent-based adhesives, or drilling holes into the foundation.
Timesaving, quick and easy installation that takes 50% less time to install.
Low-VOC materials that are free of harmful or toxic chemicals that are safer for the installers, homeowners, and environment.
Backed by the 25-Year Your Crawlspace guarantee* that all YCS vapor barrier systems used by our Richmond contractors will be free of manufacturing defects, tears, holes, flaws, and odors for 25 years. 
*Warranty is for closed, conditioned crawl space installations. Does not include damage from abuse, moisture from condensation, flooding, sudden water intrusion from a broken pipe or pest damage, or animals chewing through the liner.
8mil vapor barrier
14mil vapor barrier
16 mil vapor barrier
20mil vapor barrier
36mil vapor barrier
44mil vapor barrier
WFP Stocks the industry's leading vapor barrier products in the Richmond foundation support market. The Your Crawl space vapor barriers are 100% woven vapor barriers backed by 100% no smell guarantee and 25-year warranty. Your customers deserve a quality product that is economical and will hold up for years to come. Give us a call or stop by our facility to learn more about the last vapor barrier brand you will ever buy. 
Work With Walder
Contractors in Virginia need great products if they're to provide great service to their customers. With distribution and training by Walder, your team is equipped with the best of the best. Contact our team today to learn more about becoming a partner!