Crawl Space Doors
As contractors know, crawl space access is required under the International Residential Code section covering crawl spaces and access doors. When our crawl space experts based in Richmond are correcting moisture and rotting issues in the crawl space of a home or business, the door is one of the first things we inspect. Crawl spaces that don't have doors or have ones that are deteriorating should be replaced, or any other efforts to control the humidity will fail. Walder Foundation Products proudly distributes high-quality Your Crawl space access doors that won't rot or rust over time.
YCS Crawl Space Access Door
The YCS crawl space Door is made for Richmond weather and is a unique design that is made from 100% PVC, so it won't deteriorate. The door operates on an innovative, patent-pending slot and lock system that doesn't use hinges, ensuring its long-lasting durability and ease of access. Every model is lightweight, easy to install, and can be painted to your customers' liking. These are models that we carry:
YCS-CSD1232 (13" x 33")
YCS-CSD1632 (17" x 33")
YCS-CSD2432 (25" x 33")
YCS-CSD2436 (25" x 37")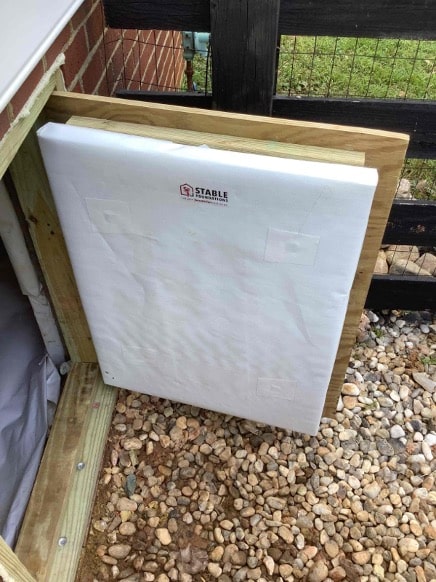 Fast and Easy Installation
Installing the YCS Crawl space Door in your Richmond home is a breeze. Each door comes with four pre-drilled holes and the necessary hardware so it can be flush mounted to the foundation. Simply drill it in and use a bead of YCS Magic Adhesive. The door frame will be permanently sealed, and the crawl space will be easily accessible with a damage-resistant door. You'll save time and your customers will be pleased to have a crawl space door they can depend on for years to come.
Work With Walder
Are you in need of a crawl space door for your Richmond residence or property that will never rot? The YCS Crawlspace Access Door is the perfect solution for your next project. Replace your customers' wooden doors with a more durable, hinge-free PVC system. Contact our team to become a certified Your Crawlspace installer in Richmond!