What Are CHANCE Lighting Foundations?
Commercial buildings and residential dwellings need to be built on a stable foundation, and lighting fixtures also need a sturdy foundation. Walder Foundation Products provides CHANCE helical lighting foundations in Alexandria, which have proven to be a reliable method for effective and efficient installation, even during poor weather conditions.
If you're a Alexandria area lighting foundations contractor who needs to install lighting for a neighborhood, parking lot, traffic light, signage, or cell tower, we recommend CHANCE lighting foundations. The non-extendable shaft is easy to drive into the soil, making installation efficient and simple.
After installing the foundation and running the power conduit through the cableway and baseplate, simply connect the electrical components and turn on the power to the lighting fixture. It doesn't get any simpler than that!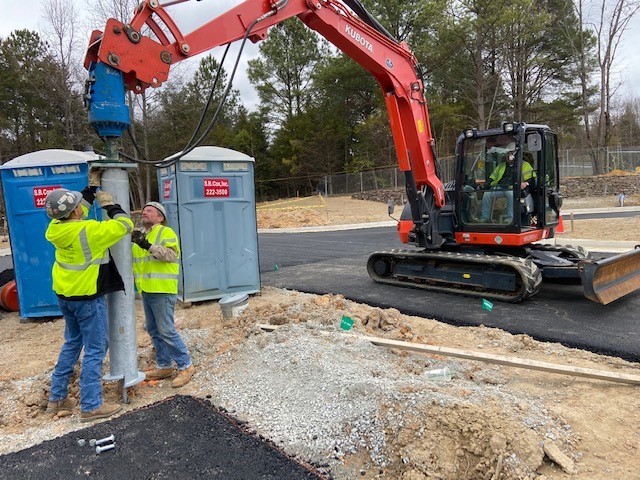 Benefits & Features for Installers
Featuring helical piers, CHANCE lighting foundations provide Alexandria contractors with reliable support to any commercial lighting fixture. Helical piers, also known as helical piles, feature a spiral plate that allows the pier to be screwed into the soil with an excavator, skid loader, or hydraulic equipment. Helical piers are relatively simple to install and don't require significant demolition or removal of surrounding soil.
Other benefits of CHANCE lighting foundations include:
Fast installation times
No additional concrete needed
Compliant with AASHTO standard specifications for structural supports for highway signs, luminaires, and traffic signals
Multiple lengths to ensure proper application
Wind, compression, and uplift resistant
Bend resistant
Lightweight product reduces shipping cost and allows for the use of smaller installation equipment 
Versatility in applications
Comes equipped with job-ready, pre-engineered details
Allows for installation in areas with poor access
Installation takes about 10 minutes and product allows for immediate loading after installation
Get In Touch
Reach out to Walder Foundation Products in Alexandria to learn more about CHANCE lighting foundations for your Alexandria area lighting projects. We provide training in the proper installation of all of our foundation repair products. Contact us today to learn more about becoming a certified installer!