Superior Foundation Structural Support Products in Richmond
Are you looking for the premier distributor in Richmond for foundation structural support, foundation repair, and new foundation construction products? Walder Foundation Products has proudly filled that bill for the past 30 years. From helical piles and piers to helical anchors and tiebacks—and other superior quality support systems—we're the most trusted distributor of earth anchoring systems throughout Virginia. Our expert technicians have helped contractors and homeowners with more than 7,000 successful foundation repair and installation projects. Through our certified installer training programs and superior quality products, we've elevated the level of quality and service in the foundation repair industry.
For foundation and retaining wall repairs in Richmond, we have found the quality, effectiveness, and long-term durability of the products manufactured by CHANCE® to be second to none. CHANCE is an industry leader with worldwide recognition for their effective solutions in foundation structural support and earth anchoring systems for residential and commercial buildings. Every product they manufacture is engineer-tested, and our certified installers of foundation structural support in Richmond have all the confidence in the world when they install a CHANCE support system.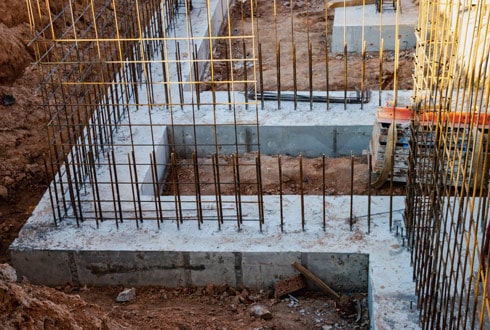 CHANCE® support products provide benefits that other products do not:
Fast and easy installation
Higher load capacities
Nominal excavation required
Installation in limited-access areas
No need for heavy-duty, costly equipment
Lower cost in labor and products
The versatility of CHANCE products allows you to use them for compression and tension applications, and because they are screwed into the ground and are not augered, they cause little disruption to the soil and provide immediate support and lasting stability the moment they are installed.
Consult With the Team
When you need the finest products in Richmond for residential and commercial installations, foundation repair, and foundation structural support in Richmond, put your trust in the number-one distributor of foundation solutions. Walder Foundation Products will never treat you like a faceless transaction. We want to collaborate as your go-to partner for all of your foundation projects. Contact our professional team to discuss how you can be a certified installer and to discuss the advantages you'll enjoy when you work with us.